Swarm Logistics
developed a software to fully automate the daily dispatching and scheduling of fleets.
Users can carry out the daily dispatching, scheduling and planning of a whole fleet in a few minutes. The process is fully automated and starts by one mouse click. Up to 35% costs can get reduced due to better planning and a higher throughput of transported entities with the same amount of vehicles.
Previously, cost savings were a benefit much focussed on. But by now reduced planning time became the most important feature for ad hoc changes in the supply chain like delays at ramps, borders etc. Furthermore, calculation of the ETA (estimated time of arrival) makes the delivery more predictable for all partners involved.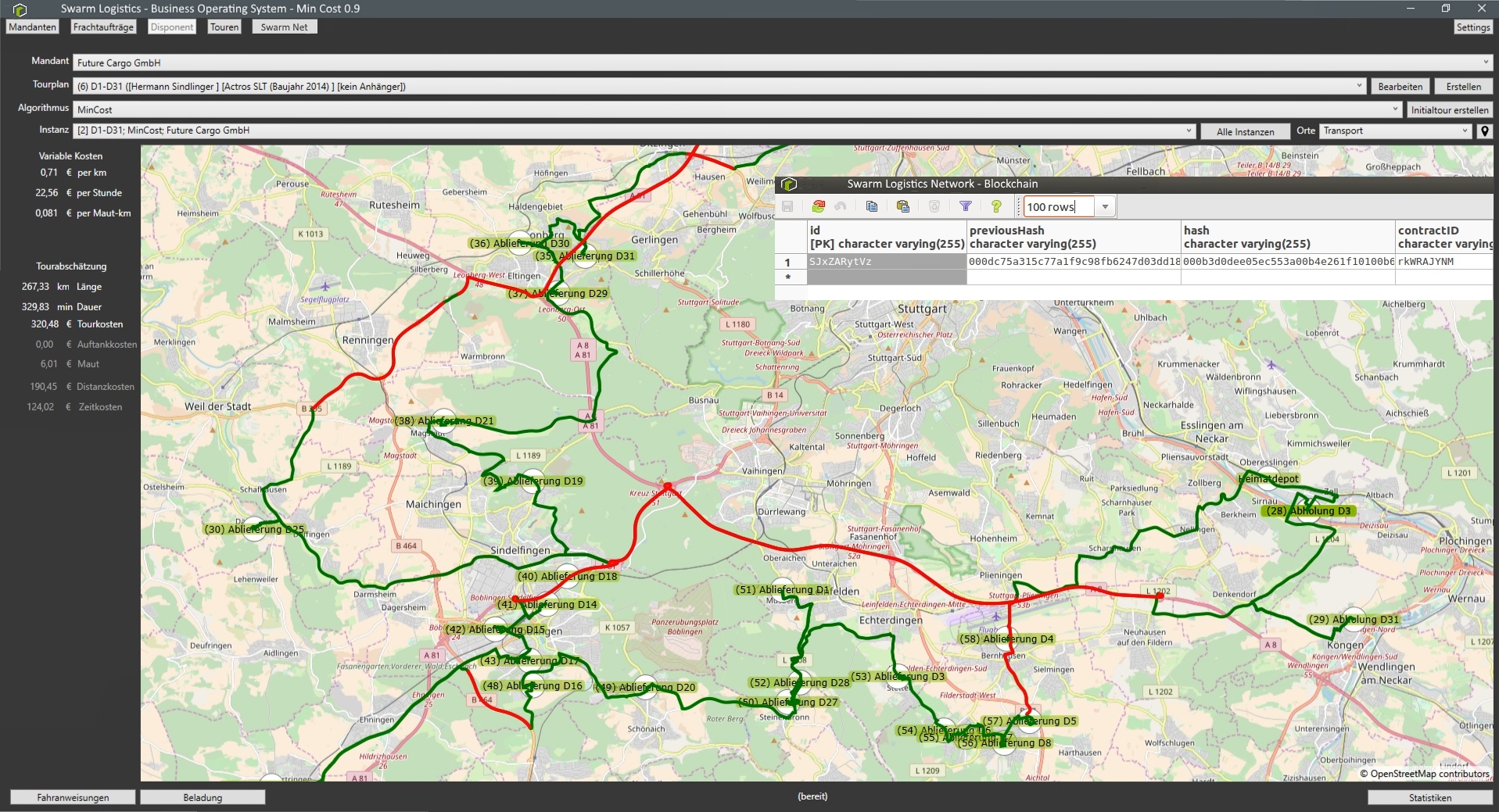 During the corona crisis usage of the software is free of charge for critical institutions like hospitals, police or any other public institutions that are helping with the distribution of important goods, service fleets or with shuttle buses driving e.g. sick, elderly or disabled persons. Due to the restricted capacities the offer is non-binding and subject to change/prior validation. Integration into legacy systems lies in the responsibility of the institutions.
You can integrate the Auto-Dispatcher easily into the existing Transport Management Systems (TMS) using the REST API interface.  
AUTO-DISPATCHER IS APPLICABLE TO:
→ freight (trucks, commercial vehicles)
→ personnel transportation (taxis, buses etc.)
→ service fleets
→ Mobility as a Service (MaaS)
for:
→ round-trips
→ pick up and delivery
→ long hauls
→ last mile etc.
CONSIDERING ALL RELEVANT CONSTRAINTS
→ time windows (e.g. opening-, ramp times), payload, volume
→ truck maps (Germany), different driver profiles and toll
→ working time restrictions of drivers
→ different de- & loading time, time and costs of stops
→ calculation of estimated time of arrival (ETA)
→ cost calculation of each tour (heterogeneous vehicle fleets)
→ complete integration of an accounting system
→ transported entities are freely definable (volume, payload, stackable, freight, humans etc.)
→ right sequence for the loaders
Swarm Logistics is a deep tech software company specializing in the development of intelligent, autonomous transportation systems. We create the software technology to fully automate the coordination & orchestration of heterogeneous fleets with trucks, autonomous vehicles, AGVs & delivery robots in open environments for an ad hoc adaptable and flexible supply chain.
Swarm Logistics entered the European Space Agency – Business Incubation centre (ESA-BIC) BW/Hesse in January 2020.
Contact:
Swarm Logistics GmbH
Koenigstr. 22, 4th Floor Marquardt Building
70173 Stuttgart, Germany
Tel.: +49 / (0)711/ 54 046 403
E-mail: info@swarmlogistics.net
www.swarmlogistics.net