Seven days full of training, hacking, and lots of fun – we brought the Climathon 2021 to Darmstadt! In October 2021, Darmstadt contributed to the fight against climate change in a very special way:
From the 22
nd
to the 30
th
of October,
cesah
and co-organiser
hessian.AI
hosted a climate related hackathon in which participants tackled local climate challenges that our communities are facing. They searched for ways to optimize our CO2 footprint, developed flood warning systems for LoRaWAN communities, thought about how to prevent textile waste through the implementation of AI and played with geodata to search for ways to prevent storm rainfall disasters.
With over 108 registrations for the climathon week, around 40 active hackathon-participants and eight truly brilliant pitches, the
Climathon 2021 in Darmstadt
 was a full success. We were stunned by the dedication of all participants and very impressed by the quality of the presentations! At least in part, this was of course influenced by our decision to turn the climathon into a 7-day event, rather than a 24-48h-event, which is typical for a hackathon. We chose this format, as we wanted the teams to not only develop great ideas, but also start working on their implementation, and thus be able to show a little "magic" during their presentations – a mock-up, some working code, or even a prototype. We are very proud to say that all 8 teams managed to fulfill this request! Let us take a closer look at the journey that got them to this point: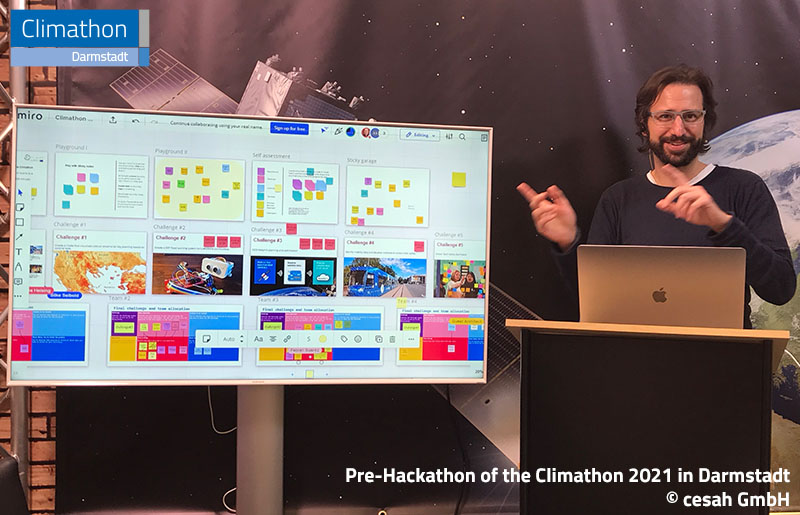 We started the event with a virtual pre-hackathon on Friday the 22
nd
of October, before the actual start of the Climathon week. This voluntary event was designed to help the participants with building their teams and selecting a challenge to work on during the hackathon. Doing this in advance enabled the teams to start developing their solutions as quickly as possible. We used the online infinity whiteboard miro to guide the participants through this selection process and were very impressed by the enthusiasm and independence with which they connected to one another.
The actual Climathon week then began on Monday the 25
th
with a live-streamed kick-off event. We were very excited and truth be told a little bit star-struck to welcome Prof. Dr.-Ing. Johann-Dietrich "Jan" Wörner to our cesah studio! He is the former President of the Technical University of Darmstadt, former Chairman of the German Aerospace Center (DLR), former Director General of the European Space Agency (ESA), today's President of the German Academy of Science and Engineering (acatech), and, since August, the space coordinator of the Hessian State Government. We were extremely grateful for his support of our Climathon and would like to thank him again for his very inspiring keynote on "The role of space for tackling climate change…".
This fulminant start was followed by two training days with a total of five web-seminars on a variety of topics, including two pitch training sessions as well as a virtual seminar on "Climate risks and chances" by Sina Wans from
Sustainable Thinking
, a "Lean Start-up Impuls" by Jannicke Gimbel from
quäntchen + glück
and a presentation on "EO (Earth Observation) in action" by Md Bayzidul Islam. These fantastic impulses were complemented by the support of 22 experienced mentors from a broad spectrum of industry fields. They helped the participants gain a better understanding of the challenges, provided access to valuable data, and shared their knowledge and experience with the teams. For volunteering their time and expertise, we would like to give a big round of virtual applause to all our speakers and mentors! 👏👏👏 
From Thursday to Saturday the agenda mainly read: happy hacking! This was the most intense phase of the hackathon and the teams worked until late at night to finalize their ideas and polish their presentations. The teams mainly worked from home or used one of our decentralized working spaces in Darmstadt to make the hackathon as safe as possible. Nonetheless, we were very happy that we could provide a stage for face-to-face exchange thanks to the support of the city of Darmstadt, who sponsored dinner for all participants on Friday evening as well as lunch on Saturday. We of course made sure to follow the 3G-rule (vaccinated, recovered, tested) by checking respective documents at the entrance to the TIZ canteen, where the team of Caseda provided a very tasty and in the spirit of the Climathon fully vegetarian meal.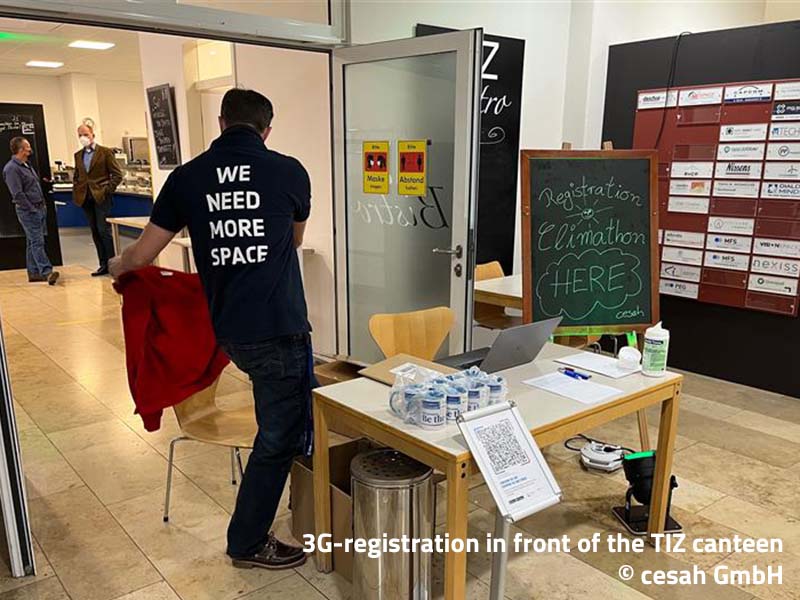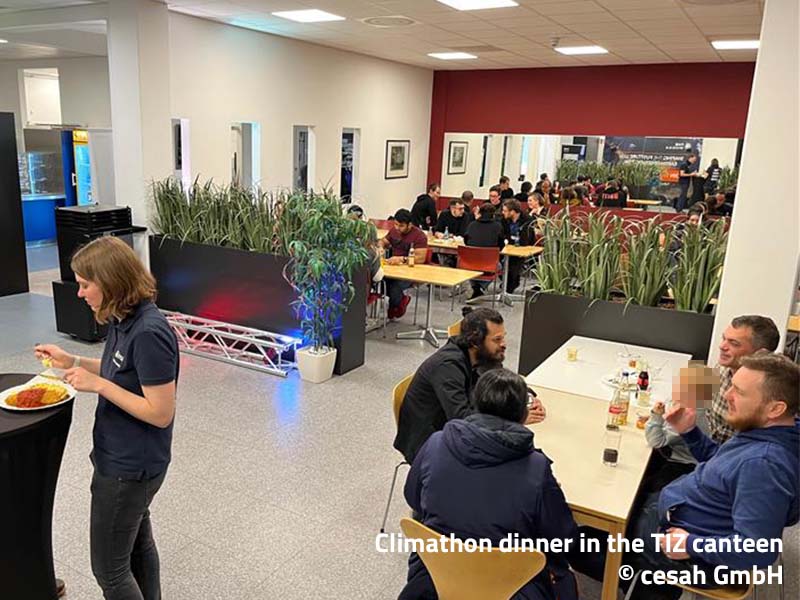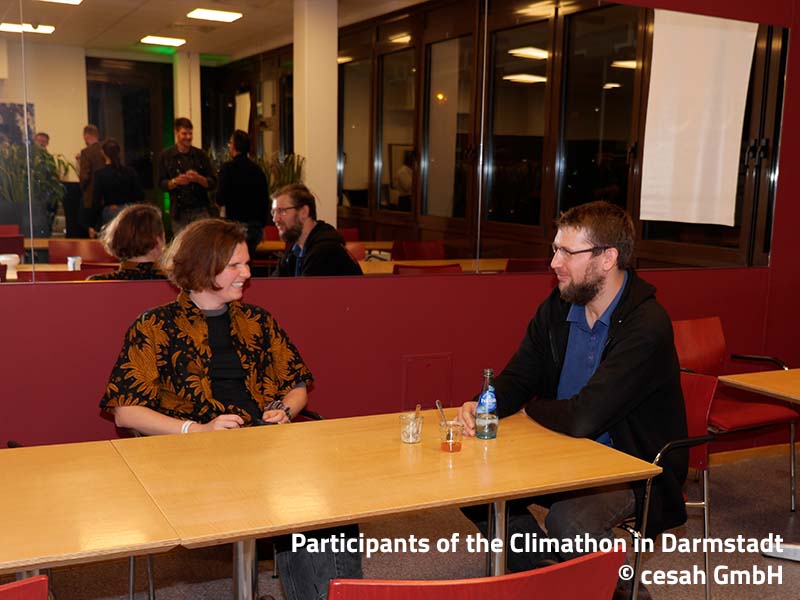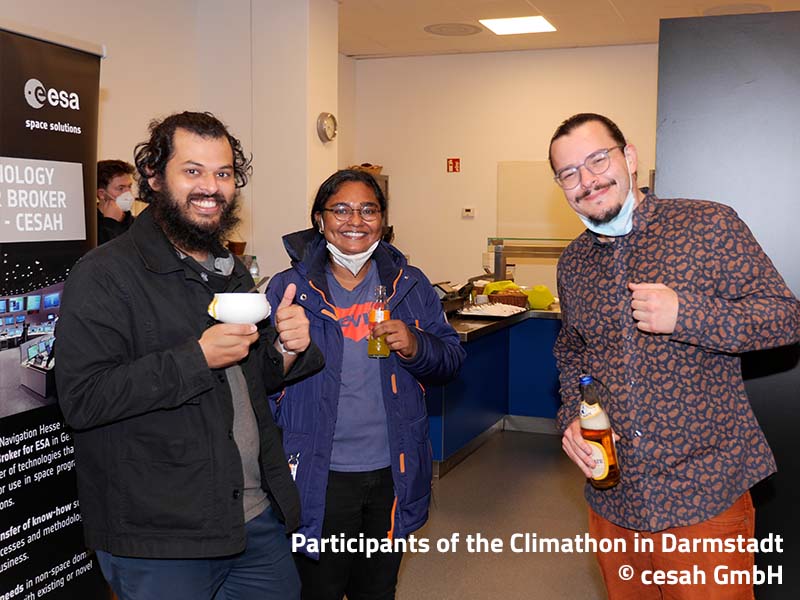 Strengthened and inspired by good food and interesting exchanges the teams went back to work until 15:00 CEST on Saturday 30
th
October to finalize their pitches before presenting their solutions to our jury board. Each team had 8 minutes to convince our experts of their idea and they certainly did not make the jury's decision easy at all. We were very impressed by the quality of all eight pitches and by the depth of the ideas that were developed in such a short time-period. Nevertheless, only one team was able to win the main prize, and while the race was indeed very close, the jury did manage to unanimously choose one team that stuck out to them the most: The winner of the Climathon 2021 in Darmstadt is...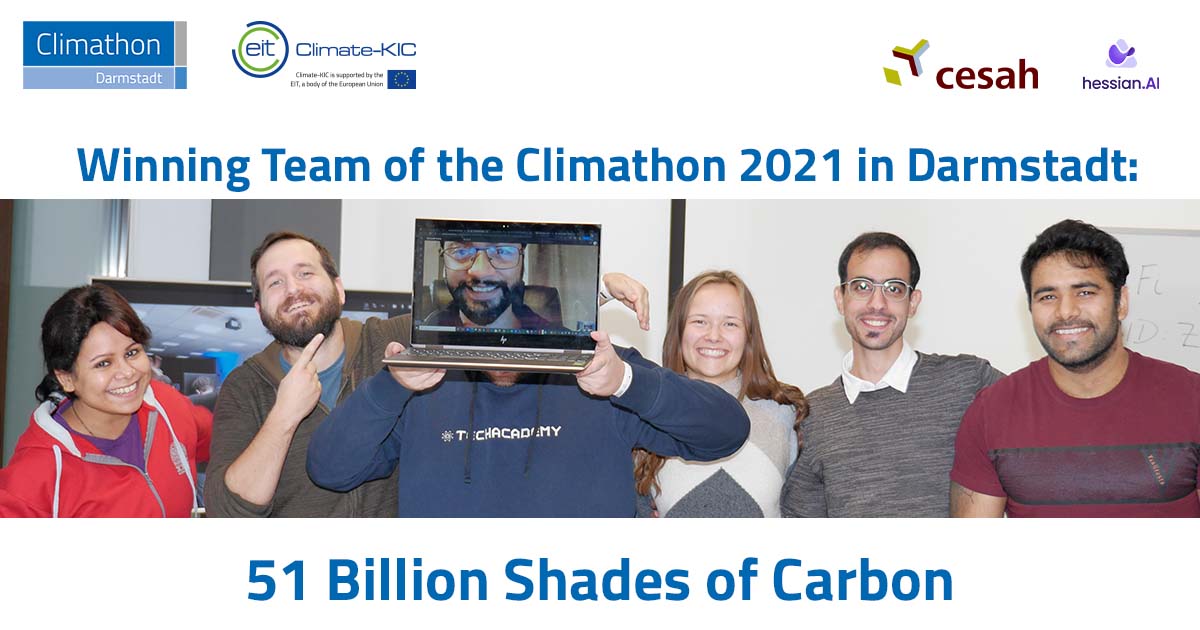 The team will now have the chance to take part in a certified workshop in the value of 5.000€, sponsored by the City of Darmstadt as part of the smart city initiative, to help them with developing their climate related business idea further. We offer our very warm congratulations to the winning team, as well as the two runner-ups of the Climathon 2021 in Darmstadt, Urban Sense (2nd place) and SuperVision (3rd place).  
Furthermore, we would like to congratulate the team-members of "The Flood Guards" who were awarded with the special prize for the DIY flood monitoring challenge by the municipality of
Freigericht
, consisting of 150€ as well as the opportunity to discuss further development and local requirements with the mayor of Freigericht Dr. Albrecht Eitz. 
The virtual award ceremony marked the end of our Climathon week, but we of course hope, that it was only the beginning for our teams and their climate related business ideas! We would like to thank all participants, mentors, speakers, jury members and of course all of our amazing partners for their contributions to the Climathon 2021! We would especially like to thank our main sponsors
Hessen Trade & Invest
,
StartHub Hessen
,
Darmstadt University of Applied Sciences (h_da),
 and the
city of Darmstadt
for their support. 
What now? Well, at cesah we often say "after the hackathon is before the hackathon" – so while we do need a short break to regather our strength, you can definitely look forward to many more open innovation events like this ;) Just subscribe to our 
newsletter
if you would like to stay informed.

About Global Climathon:
Climathon
is a city-based programme that offers a clear pathway to action and interaction -- an opportunity for cities and citizens to co-create local ideas to shared climate challenges. Climathon communities collaborate to raise climate awareness, disrupt the status-quo, and rethink the cities we live in and the future we want as citizens. In hundreds of cities across 6 continents and many timezones, Climathon brings
together a diverse group of participants ranging from policymakers to entrepreneurs, youth to business leaders, hackers to academics, students to professionals. In the last four years, the Climathon movement has grown from 600 to 6500 participants worldwide and the momentum is still building.